Our Lost & Found is beginning to pile up again! Parents are welcome to come and check it out at any time!

2021 Spelling Bee Participants

2021 School Spelling Bee Winners! Winner, Suzy Young Runner-up, Skylar Sipes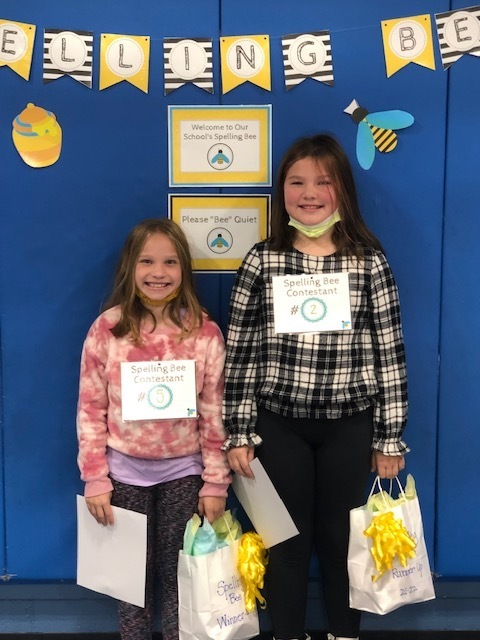 Common Ground - West Virginia Department of Education (wvde.us)

Please visit
www.kroger.com/communityrewards
to enroll your individual Kroger Plus card in the RBE account. All you have to do is shop at Kroger and RBE receives a percentage of the quarterly shopping – Thank you for taking the time to do this for our school!

Parents, please return Parent-Teacher Conference forms as soon as you can. PTC will be November 9th

Red Ribbon Week! Monday- Wear Red to support Red Ribbon Week. Say No to Drugs! Tuesday-Favorite Sports Team Clothing. "Don't play with drugs!" Wednesday- Crazy Hair/Hat Day. "Drugs make you crazy!" Thursday- Pajama Day. "Drugs make you lazy!" Friday- Wear your costume to school! "Drugs are scary!"

The Technology Hotline to assist with Schoology, Teams and and I-Pad issues is now staffed by both curriculum specialists and technicians to serve a variety of family or staff needs. The hotline is now open M-F 8:30 to 3:30 and M-Thur 4:30 to 8:00 each week. The phone number for the hotline is 304-586-4969.

Open House Flyer!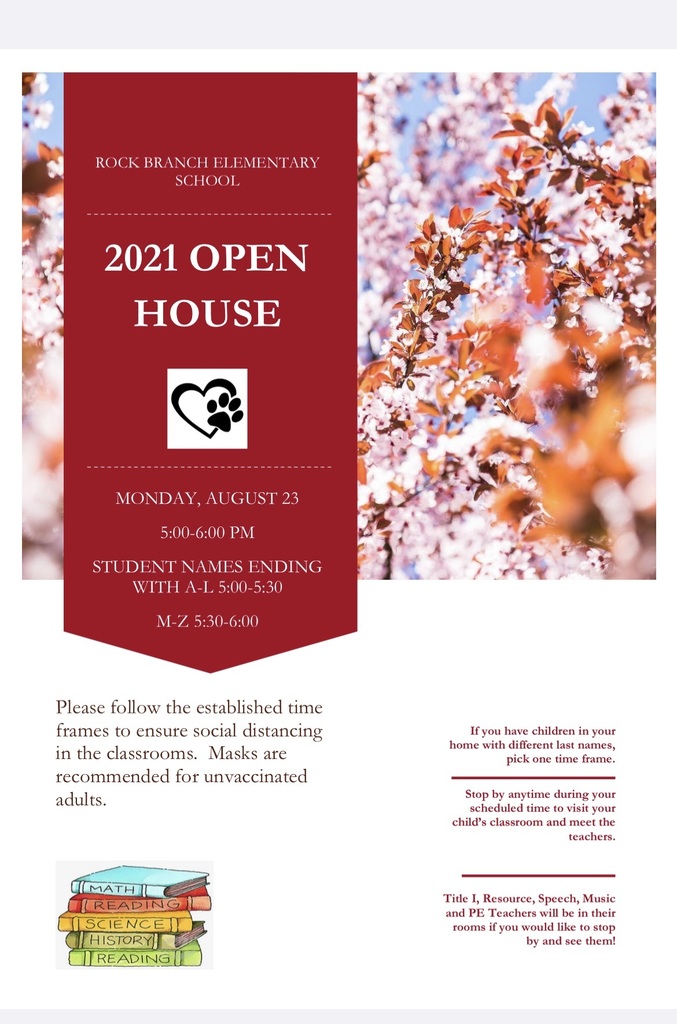 RBES Open House 2021 August 23, 2021 Names ending with A-L 5-5:30 Names ending M-Z 5:30-6:00 Please follow the established time frames to ensure social distancing in the classrooms. Masks are recommended for unvaccinated adults. If you have children in your home with different last names, pick one time frame. Stop by anytime during your scheduled time to visit your child's classroom and meet the teachers. Title I, Resource, Speech, Music and PE Teachers will be in their rooms if you would like to stop by and see them!

Good Morning Rock Branch Families! Class lists for this upcoming school year are posted on the front of the school. If you need a copy of the supply list for this year, please email me or send a message on Schoology and I will forward it to you.
beth.scott@k12.wv.us

Congratulations to 5th Grade! They completed their state testing this week! Awesome job doing your very best!

Beginning next week, the evening Technology Help Line schedule will change. For the remainder of the school year, the Help Line will be operating on Tuesday, Wednesday, Thursday 4:00-6:00 p.m.

Congratulations to our 4th Grade students! These students have worked hard this week on their West Virginia State Testing! We are proud of all of you!

PUTNAM COUNTY TITLE I READING FESTIVAL 20-21 "RBE READING DETECTIVES WANTED!" Each student will take home a "Reading Detective Bag" on Thursday, April 22nd. Please participate in the activities included in the bag with your child. Follow the clues provided and discover how much fun reading and learning can be!

Reminder! Friday 4/16/21 is an Early Dismissal. Students will be dismissed at 12:30 PM

April is the Month of the Military Child, underscoring the important role military children play in the armed forces community. On Thursday, April 15, Military Child Day, we will encourage our schools and community to PURPLE UP for Military Children! Military Child Day is a day for communities to wear purple to show support and thank military children for their strength and sacrifices. The color purple symbolizes a combination of Army Green, Air Force Blue, Coast Guard Blue, Marine Red and Navy Blue.

Congratulations to Haley Franscisco for being named Pre-K Student of the Month!

Mrs. Cornell would like to give a shout out to her virtual first grade students for doing an amazing job on their habitat dioramas! Way to go 1st Grade!

Don't forget about our book fair going on this week! Students will visit during a portion of their Music class.